The new FemmeFunn UltraWand XL is the supersized version of the very popular original, smaller model (just named the FemmeFunn UltraWand). The original was one of our favorites due to its compact size and very powerful motor. Plus its flexible neck, textured silicone, and fully waterproof design made it a uniquely capable wand.
We just got our hands on the newly released XL model here at HappyBed with a wave of enthusiasm we haven't had for a new product release in a while. While we loved many aspects of the original version, the buzzier motor doesn't appeal to as many consumers as larger, more rumblier products like the Magic Wand Rechargeable. Our hopes were the XL was up to the task.
At 11.5″ long, it's nearly 50% larger than the original version. More so, the head measures 3.25″ long and 7.75″ around while the original one is only 2.25″ long and 6″ around. Those numbers don't communicate the size difference as much as seeing them side by side – the XL version is MUCH larger.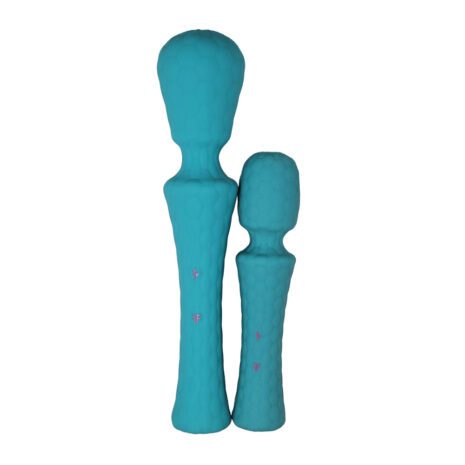 For those that like a flexible head to better control pressure, the FemmeFunn UltraWand XL kills it. Applying just a little pressure easily bends the head while a heavy push and it'll go almost 45 degrees. It's significantly more flex than you get with a large wand of this size.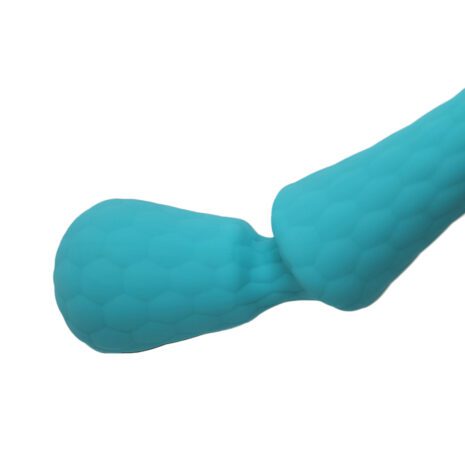 As far as features, the new version offers the same lightly textured silicone body that feels more luxurious than flat silicone products. It's also 100% waterproof … like take underwater in the bath waterproof. Or, throw it in the dishwasher to clean since it's waterproof.
So, now the important part – the vibrations. We compared it to the legendary Magic Wand Rechargeable, an intensely strong and deeply rumbly vibrator that is the benchmark for how we measure all other wands. Turning it on to level 1 (out of only 3 – more on that later), it goes right into a solid medium – comparable to the second level of the Magic Wand Rechargeable. The second level adds a bit more and then the 3rd level hits a mark roughly equivalent to the top intensity of the Magic Wand Rechargeable. And, dare I say, it's even rumblier with an impressively deep vibration you can clearly see when holding it.
On the downside, the one-button operation can be frustrating. I like to go up and down, up and down. With the FemmeFunn UltraWand XL, you can only go up through the 3 levels and then 7 patterns before starting all over again or turning it off and back on. The Boost button will take you right to the 3rd steady intensity level and pushing it again will return you to the previous setting. But we don't find that as user-friendly as just having up and down buttons. It is also a little noisier than similarly sized products. Not rattle your walls noisy but a little more so.
Overall, this catapults to my new favorite. Top of the drawer, in the shower, and right to the suitcase for trips favorite. It's stylish and cute while being very functional. If you love your Magic Wand and are looking for something a little different it should be on your shopping list. If it's your first purchase, buy it for its waterproof design and strong, rumbly vibrations you won't get anywhere else.