Who We Are
At HappyBed, we believe an important part of a happy life is having a happy bed.  Our focus is to deliver highly rated products, at the guaranteed lowest prices, with fast and free shipping, and with an extreme focus on privacy.
Safe, Curated Products
We are one of the few companies that only sell 100% safe products. We take pride in sacrificing profits by choosing not to sell higher margin, lower quality toys knowing that you can feel confident with every purchase you make on HappyBed.
We know that not everyone's body is the same and because of that, you should not trust just one person's opinion on what works for them. That is why we have a relationship with a network of trusted professional reviewers that have reputations for unbiased product reviews. We do not pay these professionals for their reviews of the products. We simply trust their advice and think you should too. See our FAQ under Products for more information about our curation process.
30 Day Low Price Guarantee
We regularly search high and low to make sure we have the lowest prices. In the event you find something we didn't, we will match the price of any local or internet based retailer for any product we sell. Simply use the contact us form to request a price match before or after the sale. Note that we can not match any auction website pricing, out of stock items, or 3rd party sellers on Amazon (why you should never buy sex toys from Amazon).
Also, because HappyBed is a small business located in Texas, you don't pay sales tax on orders delivered to other states.
Free 1-3 Day Shipping
All orders will arrive 1-3 business days after shipping. The color coded map shows the expected delivery times across the US.
Unlike most other adult toy retailers, we operate our own warehouse and control the full order fulfillment process. Because of this, we guarantee all orders placed by 2:00 pm CST Monday-Friday and noon on Saturday leave our warehouse for shipment the same day. Learn more about how we can do this in our FAQ under shipping.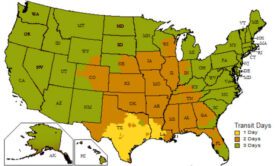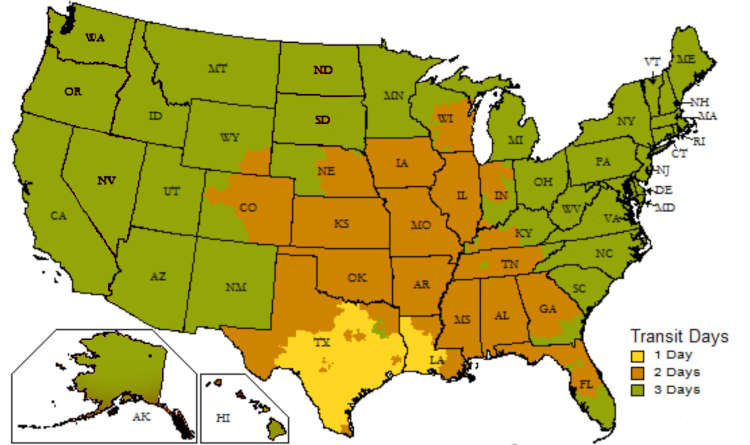 Discreet Shipping and Billing
We offer the most discreet shipping in the industry. All of our packages ship in plain brown boxes with a shipping label only identifying "Customer Service" as the shipping company.
In addition to this standard discreet shipping, we also offer two additional privacy options to ensure your packages arrive safely: Extra Discreet Packaging and Extra Discreet Shipping. With Extra Discreet Packaging we will pack your item(s) in a fake cell phone accessories box and then our Standard Discreet Packaging. That way, if anyone opens the shipping box, they still won't know what's inside. If that isn't enough, you can avoid home delivery altogether using our Extra Discreet Shipping service to have your package sent directly to one of thousands of UPS Access Points across the country. Learn about both of those options on our here.
To learn more about HappyBed and our products, please see our FAQ page.